We are glad to announce our all new addition to ScanaStudio: The Packet view and HEX view. This feature is so useful that we can't stop using it for our own projects, and we became totally addicted to it! No more having to zoom in, and out and in again and again to look at decoded data bytes. The image below gives you a quick idea of what this is all about: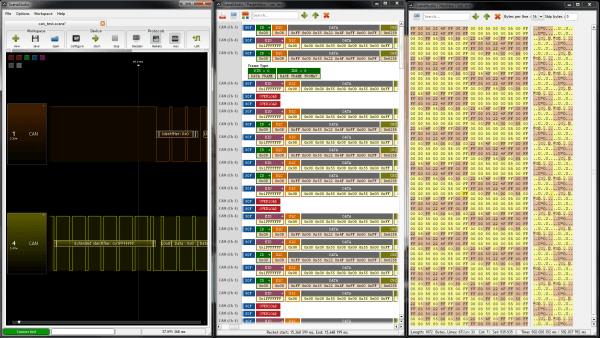 What you can see in the picture above, is an example CAN bus capture that was done with ScanaPLUS. The decoded CAN bus packets can be visualized in 3 different ways:
[icon type="icon-arrow-right" color="black"] (Left) Superposed on the waveform, which can be useful to debug the lowest level of the CAN bus.
[icon type="icon-arrow-right" color="black"] (Middle) Packet View, which lists all packets, one after the other, mixing packets from different channels depending on when each packet arrives
[icon type="icon-arrow-right" color="black"] (Right) Hex View, allowing you to look at a HEX dump of data being transferred.
The packet view and hex view can be accessed by click on those icons:

Of course, the way the data is presented in the packet view and hex view totally depends on the way the decoder script was written. While most decoder scripts are written by Ikalogic, we allow users to write and customize their own decoder scripts to quickly interpret the data that was captured with our logic analyzers.
We hope you will enjoy this new feature as much as we enjoyed working on it, and we hope it will increase your productivity!

Source: Ikalogic